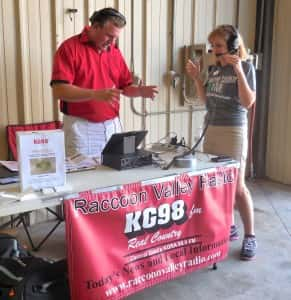 Hundreds of people are expected to show up this weekend to the Greene County Fair.
Some of the upcoming activities at the fair this weekend include the 4-H beef show, baby contest, 4-H horse show and the grandstand entertainment with the Lucas Oil Tractor Pull on Saturday. Sunday's activities are the round robin showmanship contest, tug of war and the Grand River Rodeo performing in the grandstand.
Iowa State University Extension and Outreach Vice President Cathann Kress and Assistant Vice President Bob Dodds were at the fair Thursday. Dr. Kress shares her experience of the fair.
"The Greene County Fair is always such a positive place to come to. I think all of the community really comes out well in support of the fair. The young people who are a part of 4-H and FFA just have a great opportunity here to come, to show the projects that they've been working on all year. So I always enjoy getting a chance to stop by Greene County's fair."
There were 39 static exhibits selected for the Iowa State Fair and all of those results can be found on our county fair page by clicking the link below.
And remember, the Raccoon Valley Radio Big Red Radio will continue to broadcast live from the fairgrounds through Sunday.