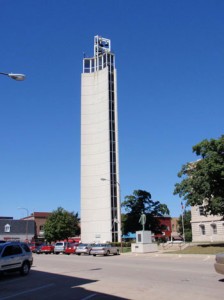 There's still time for Greene County residents to contribute to a collaborative poem for the Mahanay Bell Tower re-dedication ceremony.
Jefferson Matters: Main Street Tower View Team Co-Chair Deb McGinn says her brother David Williamson will be putting together a community poem, with the public's shared memories and experiences at the bell tower. Ten years ago, Williamson worked with the Department of Natural Resources, doing a series of projects for Project Aware of Iowa's rivers. He put together a poem commemorating Iowa's rivers from 250 public comments. Williamson is currently working on another collaborative poem in Charles City about the pedestrian bridge that with destroyed. That poem will be ready by Labor Day.
Williamson says the more comments from people he has to use, the more he can draw from for the poem.
"My sister Deb McGinn and I will haul all those pieces of paper out to my studio and we'll start to collocate, and then within a month, with a meeting or so within the community, a day or so of meetings, we should have the collaborative poem ready to go for the celebration of the Mahanay (Bell) Tower's 50th (anniversary)."
Forms and drop off boxes are at the Jefferson Public Library, Homestead Coffee and Bakery and the observation deck of the bell tower. The boxes will be collected at the end of this month. Williamson will then come to Jefferson on September 11th at 2pm at the historical museum and anyone is invited to help write the poem. The goal is to have the poem ready by the October re-dedication ceremony for the bell tower.
Williamson will tell us more about the project on today's Let's Talk Greene County program.