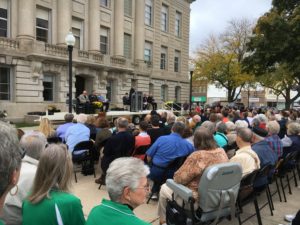 On Sunday, Greene County residents celebrated the 50th anniversary of one of the most iconic structures in the surrounding area, the Mahanay Bell Tower.
Attendees were treated to several musical performances by the Greene County High School band, the Town and Country Band, the Greene County Singers and the bell choir with the First United Methodist Church in Jefferson. There was also a re-enactment of the original dedication of the bell tower 50 years ago, with several local residents portraying the figures from 1966. One of the re-enactors was current Jefferson Mayor Craig Berry portraying then Mayor Vern Martin. Berry talks about how impressed he is to see the full 47-carillon bells get installed next year.
"Oh I think it's a great deal. The tireless effort of the (Bell Tower Community) Foundation of getting the money ready and going after grants and going to the state I think is going to be nice to have the complete facility done."
Bell Tower Community Foundation member Peg Raney says around 400 people attended from near and far.  She says the reenactment was  "terrific, giving a background of the tower from the perspective of those involved back then."  Overall she and Bell Tower Community Foundation President Carole Custer say it was a successful and wonderful event.
There are currently five bells on top of the tower. The rest of the bells are being cast, engraved and strikers are being installed in Cincinnati. The bells are anticipated to be installed next April.
The project costs more than $440,000 to complete.
(Photos courtesy of Peg Raney)