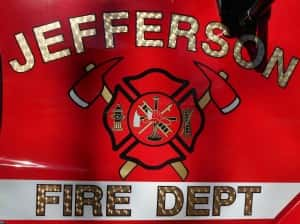 Crews were unable to save a home and a truck from being destroyed by a fire in Rippey.
Jefferson Fire Chief Jack Williams tells Raccoon Valley Radio the Jefferson, Grand Junction and Rippey Fire departments, along with the Greene County Sheriff's office, responded to a house fire at 304 Cartwright Street just before noon Monday.
Williams says no one was in the home when it caught on fire. A cause has not been determined, but Williams believes the fire started on the front porch when material under the front door caught on fire and spread to a nearby truck.
Crews battled the blaze for over two hours and no one was hurt in the incident.
The home and truck are a total loss. According to the County Assessor's real estate website, the home belongs to Manuel and Rosario Perez. Williams notes that Red Cross has been contacted and anyone wishing to make a donation to help the displaced families may call Red Cross for more information.