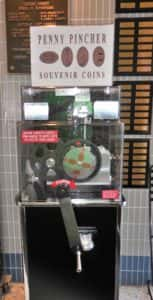 There is a new addition inside the Mahanay Bell Tower in Jefferson.
The Bell Tower Community Foundation received a $4,125 Greene County Community Foundation grant for a souvenir penny press machine. It has several different designs that can be imprinted on a penny including the bell tower and the Lincoln Highway Association logo. It costs $0.51, two quarters and a penny, to get a customized penny. Patrons use a hand crank and their penny is then flattened with the image they want on their coin.
The machine can be found on the bottom floor of the bell tower. The bell tower is now open every Saturday and Sunday in May from 10am to 4pm.