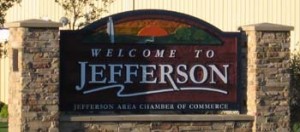 The Jefferson City Council will meet tonight.
The Council will consider for approval a plat of survey for a parcel of property owned by Nick Foster, an Iowa Economic Development Authority contract for the Owner Occupied Rehabilitation program, appointing Building Inspector Nick Sorensen to Special Projects Coordinator and a resolution to accept the People Active in Community Exercise (PACE) reserve funds. Additionally, the Council will conduct a public hearing on the status of the funded activities for the Community Development Block Grant downtown revitalization project and set a public hearing date for the 2017 Urban Revitalization Plan.
The meeting will be at 5:30pm in the City Hall Council Chambers.