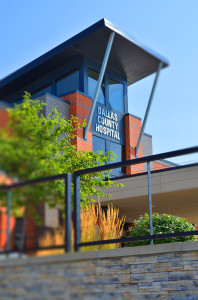 The Dallas County Hospital Foundation will be hosting another Lunch and Learn event on Monday, this time with a focus on women's health.
The featured speakers include Dr. Tracey McIntire from the Obstetrics and Gynecology Department, as well as Jamie Rabe from the Physical Therapy Department. Rabe says while many of the things she'll discuss can be applied to men, her focus will be on how they can help women. "So some things that can be more women-specific: pregnancy-related issues, whether you have pelvic pain during pregnancy or post-pregnancy – that is something that generally women have to deal with more than men; then the other things we can deal with would be if people have urinary incontinence or bowel incontinence following a delivery. And that can be over the lifespan, whether it's immediately following a delivery or whether it's an older person as well."
Rabe says physical therapy can offer solutions to many female-specific issues, and she will discuss those in more detail during her presentation. The program will be held on Monday at noon in the community room at DCH. It's free and open to the public, and lunch will be served. However, potential attendees are asked to RSVP with Foundation Manager Matt Crooks by phone at 515-465-7563, or email at mcrooks@dallascountyhospital.org.