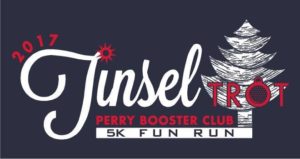 The Perry Booster Club is hosting their first ever Tinsel Trot this month, and they invite the community to participate.
Booster Club member Martha Stetzel says they wanted to further increase their fundraising efforts, and the 5K run/walk seemed like something people might enjoy doing. "This is the first year that we are doing this particular event, and we would love to make it into an annual event. We are in charge of a lot of fundraising, and we support all the programs that go through middle and high school here in Perry. So we like to come up with as much money as we can to give to these very deserving programs."
The Tinsel Trot will be held on Sunday, December 17th at 1 p.m., starting at the McCreary Community Building. The cost to run is $30 for adults and $20 for students. You can register the day of the event, but if you sign up before this Sunday, you will also receive a t-shirt with your registration. Stetzel says runners are encouraged to wear holiday costumes, and there will be a prize for the person with the best costume. She emphasizes the event is going to be more fun than competitive. "Just know that if you want to come and have fun, this is not a competition. For the serious runners, we can let them go ahead and duke that out. There will be a time kept, but certainly this is not about qualifying for any type of special race. Let's just be honest: this is an event that we're raising (money) for the Booster Club so that we can impact kids lives."
Stetzel adds, you don't have to take part in the Tinsel Trot to help out. The Booster Club will take donations and will sell t-shirts to anyone who would like one. You can sign-up for the Tinsel Trot at any bank in Perry, Hy-Vee, or at the middle or high school. You can also find a registration form by clicking on the link below. For more information, listen to today's Perry Fareway Let's Talk Dallas County program.