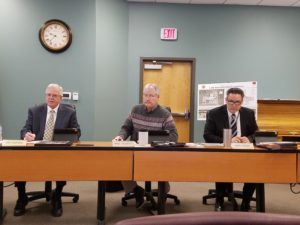 Dallas County has joined over 30 other counties in Iowa in litigation against opioid manufacturers, which will commence soon.
County Attorney Wayne Reisetter brought the potential litigation before the Board of Supervisors in December. Reisetter had been involved in discussions held between the Iowa State Association of Counties and the law firms proposing the suit, and he felt it was something worth considering. The Supervisors agreed and approved a resolution that declared their intent to join in the litigation. At a recent Board meeting, they also authorized the signing of an engagement letter that promises the County's cooperation with the law firms.
Per the agreement, the County Auditor, Attorney, and Sheriff's offices, as well as the Community Services Department, will provide access to information regarding their dealings with opioid addiction and crimes. Each department was comfortable allowing access to their records, particularly if it will help the case. If the lawsuit is successful, all counties involved will receive part of the settlement awarded, though Reisetter emphasized the lawsuit isn't about the money. He said the true purpose was to hold the major pharmaceutical companies accountable for their part in the country's opioid crisis, while also combating the epidemic.