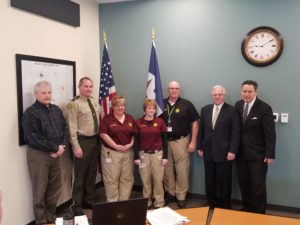 This week is National Public Safety Telecommunicators Week, and it's a time to celebrate and thank the men and women working in dispatch centers around the nation.
Dallas County is unique in that there are three dispatch locations: one in Perry, another through the Sheriff's Office, and one in the Des Moines metro area. Perry Police Chief Eric Vaughn says the dispatchers at his station do much more than just answer the phones. He emphasizes how critical each of those rolls is to both his officers and the public. "Here at the Perry Police Department, we ask them to do a great number of other things. All the dispatchers we have on here are just top-notch, and every time I ask them to do something they're right on top of it. And they always kind of go above and beyond, not only for our officers and the other employees here, but for the citizens that call in for their assistance."
Dallas County Sheriff Chad Leonard echoes Vaughn's sentiments on telecommunicators, saying they're individuals who deserve recognition, though they may not always get it. Leonard says the dispatchers are the first contact for people in emergencies, often walking them through something that could save lives before responders arrive, and he believes their importance can't be overstated. "You know, I just want to thank all the dispatchers out there, it doesn't matter which jurisdiction you work. And just remember that you are needed, and the public needs you to be behind that phone. It's not something that everybody can do, and we do appreciate you."
To learn more about dispatchers and National Telecommunicators Week, listen to today's Perry Fareway Let's Talk Dallas County program at RaccoonValleyRadio.com.