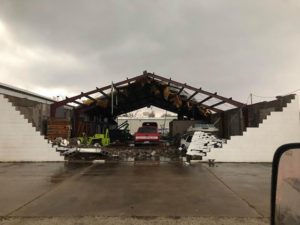 The first wave of severe weather this season affected our listening area Friday night. Greene County and the City of Jefferson took the brunt of the damage with nearly 2500 Alliant Energy customers losing power at around 6pm. As of 5am Saturday morning, approximately 100 customers are still without power.
The National Weather Service indicated the first severe storm in the area at approximately 5:36pm, twelve miles west of Jefferson. While there were no confirmed tornadoes reported by the National Weather Service or trained spotters, winds of up to 60 mph, hail up to ping pong ball size, and heavy rainfall caused damage to several buildings, homes, and trees. Flash flooding due to the rainfall affected several streets and precautionary measures are still encouraged when driving. No injuries were reported as a result of Friday's severe storms, which departed our listening area around 9pm.
As always, tune into Raccoon Valley Radio's Severe Weather Action Team for all the latest weather reports, road conditions, and any cancellations or delays. The one to count on during severe weather is the Raccoon Valley Radio Network.