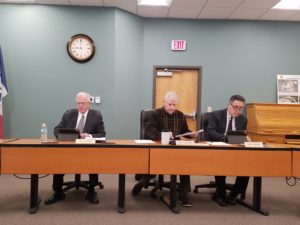 The Dallas County Board of Supervisors will convene Tuesday morning in regular session.
The first action item on the agenda is pay application number two for the new law enforcement center. The County will pay the Samuels Group for all work completed so far, and they will distribute the money to the individual contractors. Next, the Board will hold a construction planning workshop with the Secondary Roads Department to discuss cold storage, their office, and a motor grader shed. Additionally, they will set a time and date for a public hearing on a road vacation for 288th Trail.
At 9:30 a.m., there will be a public hearing continued from previous meetings to discuss a rezoning request. Other items on the agenda include mobile home tax abatements, and appointments to the Dallas County Development Alliance Executive Board. The meeting will conclude with a possible closed session to discuss purchase of real estate.
The meeting will be held at 9 a.m. Tuesday in the Board of Supervisors meeting room in downtown Adel.