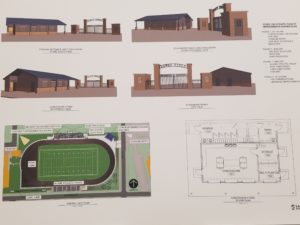 If you've driven by Perry High School in the last week, you may have noticed some things going on across the street.
Construction on the Dewey Field Complex project has begun in earnest, and the excitement level of the Perry School District has dramatically risen. Superintendent Clark Wicks says all the underground electrical work has been completed, and crews have begun work on the new concession stand and restroom complex. The northside bleachers have also been removed, as they are transitioned to a bleacher expansion that will include a two-story press box. Wicks says the public should be seeing even more progress in the coming weeks.
He's hopeful that seeing ground move at the site will get people even more excited about the project, and may inspire them to contribute to it. Fundraising so far has been going well, though Wicks says they've still got a ways to go. "As far as the fundraising side, we reached a nice benchmark: we're passed that $75,000. And our goal is $300,000, so we still need a great deal of support. But that was a nice benchmark in a short amount of time, because that will allow the $75,000 from the VanKirk family to kick in. So that was a great accomplishment by people here in Perry, the graduates, all those people that want to be part of this Dewey renovation."
In the coming weeks and months, there will be several more fundraising events, including a cookout at Hy-Vee on April 27th, and an event at Hotel Pattee on May 4th. Anyone interested in learning more or donating to the Dewey Complex project can contact Wicks or Activities Director Tom Lipovac.