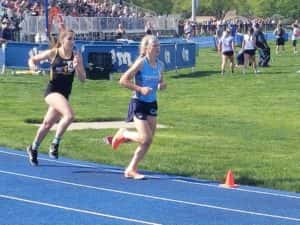 Panorama freshman Ella Waddle is rewriting the distance running record books this school year and has a rival competitor to thank for it.
Waddle qualified for this week's Class 2A Iowa State Track and Field Meet with a pair of second-place finishes in the 1500 and 3000-meter runs during last Thursday's Van Meter State Qualifying Meet; Her 3000 meter run time of 10:48.24 is the fastest time ever recorded by a Panorama athlete. Among the only competitors to top Waddle in either race this spring is AC/GC sophomore Kate Crawford. Crawford was the district champion in both the 1500 and 3000-meter events and also bested Waddle in the Class 1A state cross country meet last November by 17 seconds. Both runners were among the first six runners to cross the finish line in last years race at Fort Dodge.
The Raccoon Valley Radio Network caught up with Waddle after her performance in the 1500-meter run and says she embraces the competition Crawford provides. "I know she's probably going to be at all my meets, and honestly, she's probably going to beat me," Waddle said, "She's helping me get all my (personal records), and (school) record. She's so nice and is someone there to keep pushing me."
Waddle and Crawford will compete in the Class 2A 3000-meter race at 3:20 p.m. tomorrow and the 1500-meter race around 2:50 p.m. Saturday. Listen to the Raccoon Valley Radio Network for area results from the 2018 Iowa State Track and Field Meet starting tomorrow and running through Saturday afternoon.