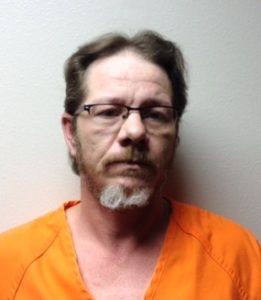 A Jefferson man has been found guilty by a jury for sexually abusing his daughter.
Greene County Sheriff Jack Williams confirms to Raccoon Valley Radio that 47-year-old James Exline was found guilty Wednesday afternoon on a Class A Felony for second degree sexual abuse and a Class C Felony for third degree sexual abuse. Exline was accused of sexually abusing his daughter, 12-year-old Paige Exline, from June 2016 to April 2017. Paige was one of two victims that died in a house fire in Guthrie Center in May of 2017.
Assistant Greene County Attorney Thomas Laehn tells Raccoon Valley Radio that there will be a "mini-trial" held Thursday, due to District Court Judge James Drew not allowing any prior convictions that Exline had on his record for sexual abuse. Laehn says the State has to prove to the jury that Exline has a prior sexual abuse conviction. If Exline is found guilty from the mini-trial, he can face up to 75 years in prison and if the jury finds him not guilty, he can face up to 35 years in prison.
Laehn adds that sentencing will take place back in Greene County at a later date. Raccoon Valley Radio will bring you more information as it becomes official.