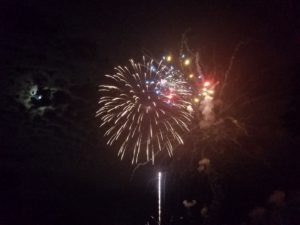 After hearing the opinions of many citizens, the Perry City Council came to a decision on the City's fireworks ordinance that they feel is a good compromise.
The Council had kicked around ideas of extending the dates for legal fireworks usage to multiple days around July 4th, but each member received feedback suggesting that wasn't what residents desired. Instead, Perry City Administrator Sven Peterson says they decided to increase the hours fireworks are allowed on the holiday, which last year was from 4-11 p.m. "The final decision for fireworks for the Fourth of July this year was to allow it from 9 a.m. – 11 p.m. on only the Fourth of July. It'll have a $250 fine for those not within the ordinance, and also it did keep the 200-foot radius around hospitals and senior care facilities that you cannot shoot off fireworks. So pretty similar to last year, basically just a lower fine."
Police Chief Eric Vaughn believes a lower fine will take away any aversion officers had last year of issuing a citation, when the fine was $500. Peterson adds, the police department knows they will have their work cut out for them trying to enforce the ordinance, but says they are hopeful to get help from people who witness the offenses. The new ordinance was passed unanimously on Monday, and the Council agreed to waive the rules of readings to make sure it's in place immediately. They also warn citizens, if the ordinance isn't followed this year, they will ban fireworks completely next year.