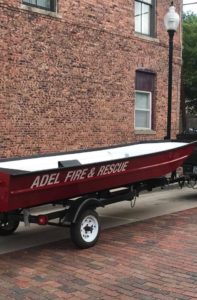 The Adel Volunteer Fire Department recently unveiled its newest piece of equipment, which they believe will help them better serve the community: a rescue boat.
Last fall, the fire department was gifted a boat by the Iowa Department of Natural Resources to use as they saw fit. The boat was in good shape with a strong motor, but it needed some alterations to make it ready for service. Since then, the department had been working days and nights to get it ready to go, with some help from Modern Motors who donated an exterior paint job. After the long wait, the new rescue boat was revealed to the public at last week's Dallas County Sheriff's Office All-Wheel Car Show. Later that day, the boat was taken out for its first on-the-water training.
The fire department is excited for the rescue boat and believe it will help them better serve the City of Adel and the surrounding communities.