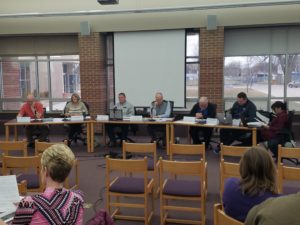 The Perry School Board will convene Monday evening for their June regular meeting.
First on the agenda is a report from Larson Engineering about the progress of the Dewey Field renovation project. That will be followed by reports from Director of Teaching and Learning Kevin Vidergar and Superintendent Clark Wicks. In general business, the Board will consider for approval the summer hourly rates for staff in Perry's Academic, Cultural, and Enrichment Services (PACES) program. Following that, they will consider establishing an agreement with Drake University for student teaching services.
Other items on the agenda include: a transfer from the general fund to the student activity fund for protective and safety equipment; an agreement with 21st Century Rehab to continue sports medicine services; revisions to Board policies and consideration of new policies regarding animals on District premises; continued participation in the School Administrators of Iowa mentoring and induction program; and continuing a universal preschool 28E agreement. The Board will also consider allocating additional funds for the "Capturing Kids Hearts" program, which was initially approved in May.
The meeting is open to the public and will be held at 6 p.m. Monday in the high school's Brady Library.