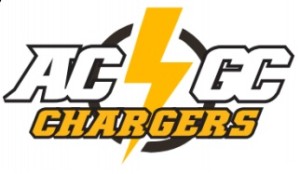 The ACGC baseball team is still searching for win number one after falling to Guthrie County and West Central Activities Conference rival Panorama for the second time this season. The Panthers defeated the Chargers 9-4 in Guthrie Center.
The Panthers scored the first eight runs of the game in the first three innings. ACGC fielding and pitching allowed the first three runners to score in the top of the 1st, while the fourth came off a fielder's choice from ACGC senior pitcher Logan Brincks. After scoring another run on a wild pitch in the top of the 2nd, the Panthers tallied three more in the top of the 3rd. Freshman Dominic Walker got a base hit to bring home senior Steve Sorcide. A few batters later sophomore Luke South hit a two-RBI single to bring home the Walker twins.
The Chargers began their rally in the bottom of the 3rd off a two-RBI double from senior Caden Wardyn, driving in classmates Nate Schiller and Quenton Spack. Two batters later Wardyn came across the plate off a wild pitch to cut the lead to five. But the Chargers couldn't overcome the initial deficit. ACGC's lone run after the 3rd came in the bottom of the 7th when junior Ben Kingery drove in Wardyn off a base hit.
Junior pitcher Jacob Iseminger gets his first win of the season, striking out four batters and allowing just two earned runs in a complete game performance. Logan Brincks collects the loss for the Chargers. ACGC now falls to 0-11 on the season while Panorama improves to 2-8. ACGC will finish off the homestand tomorrow when they take on the 1-11 East Union Eagles.