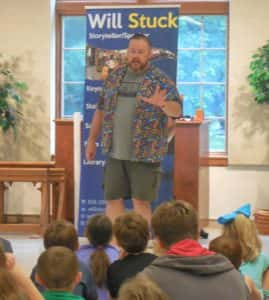 The Greene County Libraries Association recently had a series of free performances this week.
Storyteller and comedian Will Stuck performed two different shows on Monday and Tuesday. Stuck explained the differences between the two shows.
"Monday we're doing the 'Rumpus' show which fits more with this year's summer reading theme which is 'Libraries Rock.' So it's all music-based. Stories maybe have a musical element to it. I spend some time talking about musical instruments, and how kids can make music and music is everywhere. And 'Hoopla' (on Tuesday) which actually is a show that I started two years ago when the summer reading theme was all about getting up, and getting moving and exercise."
Monday's "Rumpus" shows were at the First United Methodist Church for the Jefferson Library, then at the Grand Junction Library and H.F. & Maude E. Marchant Memorial Library in Scranton. Tuesday's "Hoopla" shows were at the Paton, Churdan and Rippey libraries. Jefferson Children's Librarian Terry Clark said their kids' Summer Reading Program is currently underway, but it's not too late to join.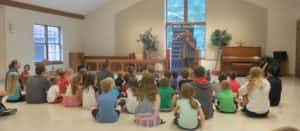 "We would love to have all of the kids come in and get a registration form. There's plenty of room for everybody. We just think this is a great program. 'Libraries Rock,' that's our program for the summer and we're having a rockin' good time this summer. So we invite everyone to come in."
The Jefferson Summer Reading Program is for kids ages four-years-old through fifth grade.
The Will Stuck performances were co-sponsored by the Greene County Libraries Association and the Greene County Board of Supervisors.