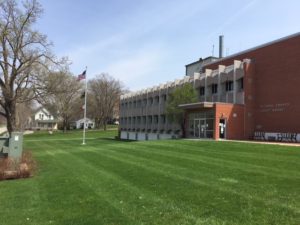 The Guthrie County Board of Supervisors met in regular session Tuesday.
The Board canvassed the results from last week's Primary elections. They officially approved the results with no changes to the outcome in any race. They also approved the Panora Communications Cooperative Service Contract for technological services at the courthouse.
The Board also heard several updates from department heads. County Conservation Director Joe Hanner informed the Board that camping revenues reached a record level for the month of May with just over $6,000. Environmental Health Director and Transfer Station Executive Director Jotham Arber discussed a replacement schedule for department vehicles. He also requested to switch trade-in vendors from Bob Brown in Des Moines to Karl Chevrolet in Stuart, and discussed concrete repair at the Transfer Station.
Then Sheriff Marty Arganbright presented the four-phase plan from architectural and design firm Shive Hattery for a needs assessment on the county jail. The Board expressed their interest in looking at other firms for comparison before making a formal decision. Arganbright and Deputy Mike Herbert also discussed preparations for the upcoming jail inspection later this month.
Finally, Facilities Manager Brandon Thompson updated the Board on fence repairs at the county farm and roof repairs at the courthouse. No formal action was taken on any discussions with department heads.