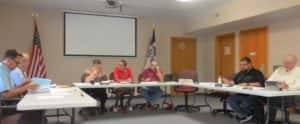 The Jefferson City Council met for less than ten minutes Tuesday night.
The Council approved audit fees for the next three fiscal years to 2020 with starting fees of $13,400 to $13,800 on the final year. The Council also approved the 2018 fee schedule and updating the investment policies as presented. Additionally, the Council approved authorizing depositories at Home State Bank, People's Bank and Iowa Public Agency Trust Fund with a $15 million limit for each entity.
The Council also heard a financial update. City Administrator Mike Palmer pointed out that the Police Department reached over 250-percent of their budgeted revenues due to collecting more money from fines and a reimbursement from sending a former officer to the Iowa Law Enforcement Academy. Another fund that was ahead of projected revenues was the Road Use Tax, due to more money coming in from the new gas tax that was implemented from the state legislature.