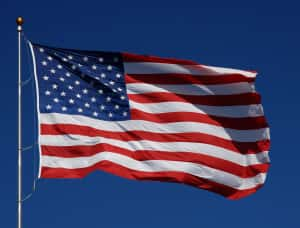 Every year, June 14th is recognized as National Flag Day, so tomorrow the Perry Elks Lodge #407, will hold its annual Flag Day Ceremony.
This year's event is being held in conjunction with the Perry Farmers Market. The Lodge will have a booth set up in Josh Davis Plaza from 4-7 p.m., where they will be selling American flags, flag lapel pins, and baked goods. All proceeds will go to the Veterans Fund at the Perry Lodge, which will pay for upcoming projects to benefit area veterans. The annual Flag Day program will begin once the market has wrapped up. It will include guest speaker Rabi Decker, a local Vietnam War veteran, who will give a special tribute to the American flag. Perry Boy Scout Troop #127 will also aid the Elks in the ceremony.
Perry Elks Public Relations Coordinator Lisa Widick says Flag Day is something the Lodge looks forward to every year. She feels it expresses their devotion and respect for the stars and stripes, while also helping the public learn about its history and significance. "We're large into helping the community. And if we can teach the community things that are important to us, it allows more members of the community to know what we do, and want to be involved in that. We're very patriotic-minded, and the American flag is a big symbol of what we believe in and what we do, and how we go about our daily lives. So it's important that we celebrate the American flag."
There is no cost to attend the Perry Elks Flag Day Ceremony, and the public is encouraged to take part.