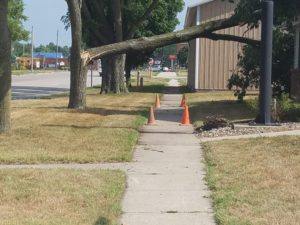 June is typically the peak of storm season in central Iowa, and more often than not severe storms are accompanied by an abundance of downed tree limbs and branches. Cleaning up after those types of events can sometimes be a hassle for residents, which is why Perry Public Works Director Jack Butler says his department does what they can to ease the process.
To that end, Butler says they suspend their normal rules for Wednesday yard waste pickups, and adopted a policy of "bring it to the curb, we'll take care of the rest." "You know, if it was a real citywide bad storm, we would do a public service announcement and get that out to everybody. Let them know, drag it to the curb, we'll be around to get it. We haven't done that yet, because driving around it hasn't been every house, it's been hit and miss. If you have any questions about it, don't be afraid to call down to City Hall and leave us your address, and we'll come up there and take a peek at it, and make sure it gets squared away."
Butler adds, if it's possible for residents to cut the damaged tree limbs into four-foot lengths, his department would definitely appreciate it. However, he realizes that during larger storm events that's not always feasible, so he's instructed his workers to take as much debris as they can. To hear more from Butler, listen to today's Perry Fareway Let's Talk Dallas County program on air and at RaccoonValleyRadio.com.