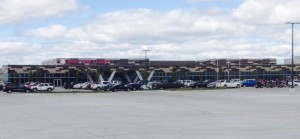 With the 4th of July holiday coming up, the City of Jefferson is once again partnering with a private entity for its fireworks display.
City Administrator Mike Palmer says the City has teamed up with Wild Rose Casino and Resorts for their fireworks display to be held at dusk on the 4th. He points out that last year was the first year the two entities worked together. The City budgets $3,000 per year for its public fireworks display and last year Wild Rose put in $7,000 for a total of a $10,000 display. Palmer talks about some of the minor changes they are making to this year's display.
"Last year thought that maybe it could be a little bit longer of a display. The two entities have worked together so our display we're probably and hoping for no less than 30 minutes."
Palmer notes that the same amount of money will be used for this year's display. The fireworks will be shot off on the northside of the Wild Rose property. The public is invited to park in the Wild Rose parking lot for free to view the free fireworks.