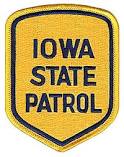 A motorist died early Wednesday on Interstate 80 in Adair County after a single-vehicle wreck.
The Iowa State Patrol reports, at around 6 a.m. 28-year-old Sheana Marie Story of Des Moines was travelling westbound in a 2006 Ford Fusion near mile marker 83. She drifted off the roadway and struck a cable barrier on the shoulder. The vehicle went into the ditch and rolled around three times before coming to rest on its wheels facing southwest. Story was not wearing a seatbelt and was ejected from the vehicle. She was declared dead at the scene by the Adair County Medical Examiner.
The exact cause of the wreck is unknown and is under investigation at this time by the Iowa State Patrol. Raccoon Valley Radio will bring you more information as it's made official.