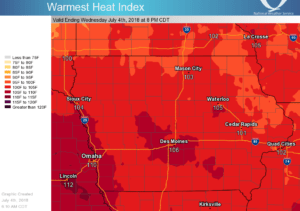 Independence Day in the Raccoon Valley Radio listening area this year has brought with it a heat advisory.
The National Weather Service is issuing an excessive heat advisory for Greene, Dallas, and Guthrie counties starting at noon today and going through 8 p.m. Temperatures will reach the mid-90's, with heat indexes that could reach as high as 110 degrees. As such, the National Weather Service recommends staying indoors as much as possible, and limiting strenuous outdoor activity. They also advise you to frequently check on the elderly and young children, as they are more susceptible to heat-related illness.
Additionally, all three counties are under a marginal risk for severe weather from around 2 p.m. through midnight. If severe weather affects any of our listening area, the Raccoon Valley Radio Severe Weather Action Team will take the air live to keep you informed and safe.