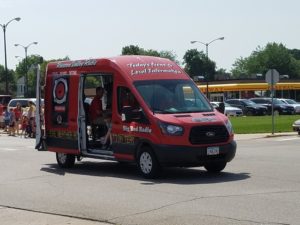 In spite of a heat index of more than 100-degrees yesterday, the annual Perry Fourth of July Celebration was a big hit.
Chamber of Commerce Director Lynsi Pasutti felt neither the high temperatures nor evening rain could dampen the spirits of the thousands of attendees. "So despite the heat, great turnout! And then I think the showers were actually a little bit welcome towards the end of the day. But nothing really held anyone back, I think people were kind of winding down by the time the rain came, cooled off a little bit and enjoyed the rest of the evening."
The day started with the parade, which had an added wrinkle this year of prizes awarded for the top three floats. The winning entries were from Raccoon Valley Bank, Elite Tumbling of Jefferson, and Mt. Olivet Lutheran Church. Following the parade, the crowds descended upon Pattee Park for a day of food, vendors, entertainment, and lots of other activities. The publicly-funded fireworks show capped off the day, with $12,500 spent on this year's display.
In spite of the success of the event, Pasutti believes there's more they can do to make next year's celebration even bigger."I think there's always room for improvement, this and that, here and there. But I think overall, there's a great tradition that's already been established with the vendors and people planning on coming out. And so just building upon that, maybe add in a couple entertainment pieces here and there, and just give people more reason to come out to Perry and celebrate the Fourth of July."
The Raccoon Valley Radio Big Red Radio also took part in the festivities. We were in the parade, then camped at Pattee Park until 3 p.m. to broadcast live, play patriotic music, and provide public address announcements.