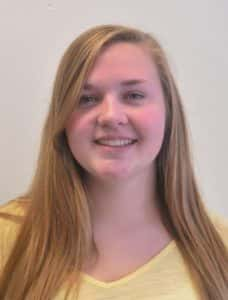 With the Greene County Fair Queen Coronation Ceremony now one week away, we introduce another candidate looking to be crowned this year's queen.
Kara Reed is going to be a senior this fall at Greene County High School. She is the daughter of Shaun and Shelly Reed of Jefferson. She has participated in volleyball and track, and is a part of FCCLA, FFA, National Honor Society, 4-H and 4-H Young Leaders. She is going to be showing sheep and pigs at the county fair this year and points out that her favorite parts of the county fair are showing livestock and working in the livestock office with her friends. She explains why she wants to be the Greene County Fair Queen.
"I've always grown up here in Greene County and I would really like to represent the county at (the Iowa) State Fair. Also a big thing is, one of my favorite memories with my grandma, is watching the fair queen (ceremony) at State Fair. So I think that's a big reason, now that she's not with me, to go and do it so she can be with me in some way."
Listen to KGRA each day leading up to the coronation ceremony on Friday, July 13th as we preview each of the county fair queen candidates.