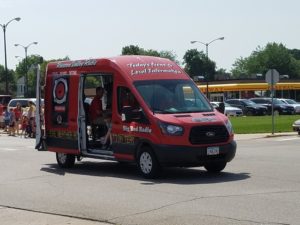 Every year, one of the biggest aspects of Perry's Fourth of July Celebration is the parade, which also serves to kick off the day's festivities.
This year, there was an additional wrinkle thrown into the works, as the Perry Chamber of Commerce offered prizes for the three entries voted the best. There were three secret judges placed throughout the parade route, and they were responsible for choosing which entries would receive the Perry Buck prizes. First place was awarded to Raccoon Valley Bank, Elite Power Tumbling of Jefferson took second place, and third place went to Mt. Olivet Lutheran Church. The groups received $75, $50, and $25 in Perry Bucks, respectively.
The judges were Chamber Ambassador Misty VonBehren, awards sponsor Erin Butler of Butler Appraisals, and 2018 Volunteer of the Year Andrea Tunink. Chamber Director Lynsi Pasutti believed the awards helped to make an already great parade even better. She felt that was evidenced in the fact there were several more entries this year than in previous years, and the creativity shown in the floats was ramped up.