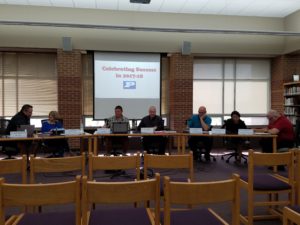 The Perry School Board will convene Monday evening for their July regular session.
The meeting will begin with reports, including a presentation from EMC Insurance, and a recap of the SkillsUSA National Competition in Louisville, Kentucky from Industrial Technology Teacher Curt Cornelius. In general business, the Board will approve a delegate to vote on the Heartland Area Education Agency (AEA) Board vacancy on July 26th in Adel. They will also consider three change orders for the Dewey Field renovation project, as suggested by the contractors and recommended by Larson Engineering.
Next, the Board will consider changes to all the normal student handbooks, as well as changes to the student laptop handbook. They will then discuss several appointments for the coming school year, including: Board Secretary and Board Treasurer; legal counsel; bank depository and limit amount; level I and level II student abuse by school employee investigators; District equity and equal opportunity and Affirmative Action officer; section 504 and Americans with Disabilities Act (ADA) coordinator; and homeless coordinator.
The meeting is open to the public and will be held at 6 p.m. Monday in the high school's Brady Library.