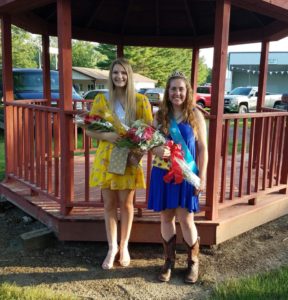 At last month's Dallas County Pre-Fair Rodeo, one of the big moments was the coronation of the 2018 Dallas County Fair Queen. This year's royalty is Meghan McBride from Clive, and Raccoon Valley Radio had the chance to chat with her.
McBride graduated this past May from Waukee High School, and has been involved in Dallas County 4-H since she was little. She recalls that the fair has always been her favorite part of the summer, and this year she's once again looking forward to showing horses, chickens, and dogs. However, McBride knows she'll be much busier than she's used to this year, as she'll also bear the burden of the Fair Queen responsibilities. "So I'm going to go around the fair, hand out trophies and ribbons. And I get to go to some of the county events, just kind of being there and talking to people, and promoting the fair. And so come out to the Dallas County Fair, I will be there. I've got some cute horses who will also be there. It's a fun time!"
Some of McBride's activities outside of the fair include being a charter member of the revitalized Waukee FFA Chapter, and several years of organized ice hockey in both Kansas City and Des Moines. Now that she's graduated from high school, she plans on attending DMACC in the fall, and studying agriculture business and animal science and seeing where that leads from there. In the more immediate future she'll be participating in the Iowa State Fair Queen Pageant this August. The Dallas County Fair begins Wednesday and will run through Sunday.
To hear more from McBride, listen to today's Perry Fareway Let's Talk Dallas County program on air and at RaccoonValleyRadio.com.