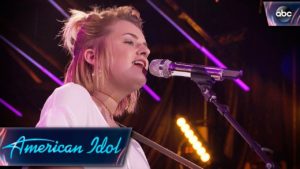 The most recent American Idol winner is coming to Jefferson.
Wild Rose Casino and Resorts in Jefferson has announced that Clarksville, Iowa native Maddie Poppe is coming to the Greene Room events center on Friday, September 28th. She is this year's American Idol winner and is currently on the American Idol Tour, which runs through mid-September. Wild Rose Jefferson General Manager Travis Dvorak says getting Poppe to come to Jefferson has been a long process.
"We've been trying to get her since she was a contestant on American Idol, and then when she won it we really tried to get her, which made it even harder obviously. She's all Iowa and we're all Iowa so we wanted to bring her in. So after about one month of negotiation we do have her coming. We are just super excited to have Iowa's first American Idol winner coming to Wild Rose."
Dvorak points out that when Poppe arrives in Jefferson in late September, she will be starting her solo tour.
"In many ways it's kind of, almost an honor because after she gets done with her American Idol tour, she starts her solo (tour). And the first two solo concerts she gets are at Wild Rose. The first one is at Wild Rose in Clinton and the second one is here in Jefferson. I think we're very fortunate to start it off for her. I think it's one of those moments that we're going to be very proud of."
The concert starts at 8pm with another Iowa-based singer-songwriter in Patresa Hartman, followed by Poppe's performance. Tickets are on sale now at wildroseresorts.com.