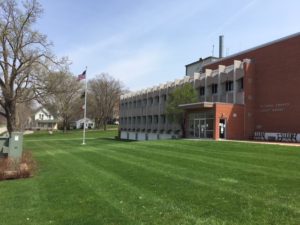 The Guthrie County Board of Supervisors will meet in regular session today.
Shive Hattery Architecture and Engineering Institutional Team Leader Michael Lewis will discuss the services agreement for a needs assessment on the current County Jail facility. The Board will also continue discussions on the project going forward.
They will then seek to approve the concrete contract with Jorgensen Brothers Concrete Construction and specifications for a fence project, both at the County Transfer Station. Other action items include: an amendment to the fiscal year 2019 five-year engineering plan, a Tax Increment Financing (TIF) advance request, the Iowa Counties Technology Services Business Associate Agreement, and two fireworks permits.
The meeting begins at 9am in the Supervisors' Room in the Guthrie County Courthouse in Guthrie Center.