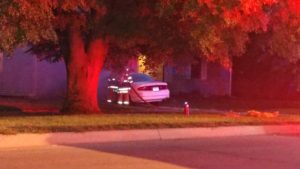 The Perry Fire Department responded early Tuesday morning to a car fire in the 2600 block of Willis Avenue.
Emergency crews on scene said the fire was reported just before 5 a.m. When firefighters arrived, the front portion of the vehicle was engulfed in flames. They quickly put it out, but it still caused some damage to the attached garage of the nearby residence. Traffic on Willis Avenue was diverted for a few hours while crews were working to extinguish the fire. No one was injured in the incident, but the cause of the fire is currently unknown. The Perry Fire Department was aided at the scene by the Perry Police Department and Dallas County Emergency Medical Services.
Raccoon Valley Radio will bring your more information as it becomes official.