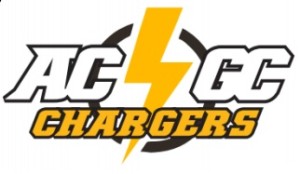 The ACGC baseball team saw their season come to a close Saturday in Missouri Valley. For half a dozen seniors, the loss to the Big Reds was their final game in the Charger gold and black. Today we look at three of those seniors: Caden Wardyn, Quenton Spack, and Logan Brincks.
In his two seasons at ACGC, Wardyn racked up the most hits with 45. This season he led the team in runs with 15, doubles with five, and walks taken with 14. He is also one of four Chargers to earn two wins on the pitcher's mound, both coming this season against East Union and Woodward Academy. Against the Knights, Wardyn threw a Charger record eleven strikeouts in the shutout performance in the joint no-hitter with junior Will Byars.
This season Quenton Spack wheeled in 15 stolen bases and was second on the team in hits, runs, and doubles with 21, 14, and four respectively. He was also tied for second in RBIs with 10. Arguably his best performance on the mound came against Glidden-Ralston, striking out a personal best seven batters and allowing just one earned run off two hits in six innings.
Logan Brincks finished this season as the 8th best hitter with six hits, while also collecting seven runs for the Chargers. He started three games for the gold and black on the mound this season.
Tomorrow we'll review the careers of Owen Hansen, Garrett Walhovd, and Nate Schiller.