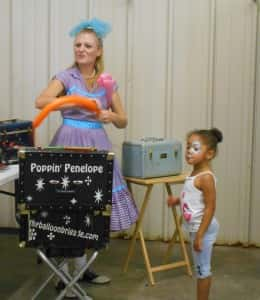 A lot of activities begin to pick up at the Greene County Fair Thursday.
The day starts with the Swine Show at 8am at the showring, followed by the Clover Kids Rabbit Show at 8:30am at the bus barn. Next will be the Horse and Pony Show at 1pm at the showring, followed by Barnyard Games for youth at 2pm north of Clover Hall. The Beef Fitting Competition will take place at 2:30pm in the showring and the side attractions kick off Thursday night. Greene County Fair Board President Connor Juergensen talks about the lineup of side attractions for the fair.
"The kids are going to be happy that we have this one back is Poppin' Penelope. She'll be there (on Thursday) performing before the outdoor movie that evening. The brand new attraction that we're pretty excited about this year is the Aussie Kingdom. It is a traveling animal show, completely of Australian animals. So that'll be there Friday, Saturday and Sunday. Farmer Phil is another regular, and he'll be there Friday, Saturday and Sunday doing magic and juggling."
The free outdoor movie is Disney's Moana, sponsored by the 4-H Young Leaders, and that'll take place at 8pm north of Clover Hall.
Raccoon Valley Radio's Little Big Red Radio will also be there broadcasting live from 10am to 6pm each day of the fair through Sunday. We will announce results, as well as play music and make local announcements. You can also check out the full results of the livestock, static exhibits and other contests on our website by clicking on the Greene County Fair tab on the right-hand side of our homepage.