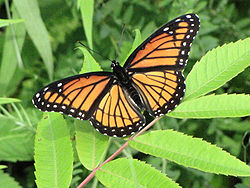 A big focus of this year's summer programming with Dallas County Conservation has been on pollinators, in particular monarch butterflies. That focus continues tomorrow as the annual "Monarch Rescue" event takes place at the Kuehn Conservation Area.
Forest Park Museum Curator Pete Malmberg says the public has been showing an increased interest in monarchs recently, and he's hopeful that interest will lead to the revitalization of the butterfly population nationwide. Malmberg explains what Conservation hopes to accomplish with the rescue event. "Every year, we ask for volunteers to scour the ditches near Kuehn for monarch butterfly eggs or larvae. They're trying to gather and transfer them to protected milkweed plants in the demonstration garden before the ditching mowing ban, which protects nesting birds, is lifted on July 15th."
Participants should wear long pants and closed-toed shoes to the event. There is no cost, but registration is requested. For more information or to register, stop in or call the Forest Park Museum and Arboretum in Perry at 515-465-3577. To learn more about upcoming events with Dallas County Conservation, listen to tomorrow's Perry Fareway Let's Talk Dallas County program on air and at RaccoonValleyRadio.com.