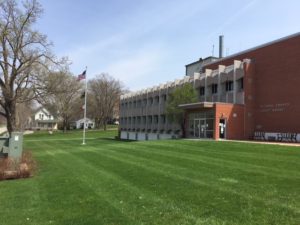 The Guthrie County Board of Supervisors met in regular session Tuesday.
The Board discussed a needs assessment  for the County Jail with Shive Hattery Architecture and Engineering Institutional Team Leader Michael Lewis. The Board approved moving forward with the assessment through the firm. The assessment is phase one of three, and will cost around $14,000. The Board only approved moving forward with phase one at the moment, as opposed to all three phases. The approval is subject to final contract negotiation with Assistant County Attorney Tim Benton. They also continued discussion on a jail committee.
Transfer Station Executive Director Jotham Arber then updated the Board on repair projects at the station. The Board approved $13,225 for concrete repairs at the County Transfer Station with Jorgensen Brothers Concrete Construction out of Guthrie Center, and a proposed fencing project at the station to keep neighboring cattle off station property. Other action items approved include: an amendment to the fiscal year 2019 five-year engineering plan to account for an additional $100,000 in federal funding for the Monteith Road project; a Tax Increment Financing (TIF) advance request of $500,000 to fund a box culvert replacement and other miscellaneous projects; the Iowa Counties Technology Services Business Associate Agreement; and two fireworks permits.