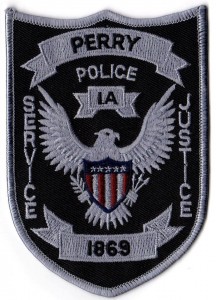 Last year, the Iowa Legislature passed a law that makes texting while driving a primary offense that officers can pull motorists over for. A recent statistic released by the Iowa State Patrol indicated that since then there have been six times as many tickets issued for the offense.
However, many local law enforcement officials have found the law difficult to enforce, including the Perry Police Department. To that end, Police Chief Eric Vaughn says they're formulating solutions to help officers catch offenders. "We're kind of hoping to work in a team effort. Have one officer identifying those that are in violation, then have another officer out stopping them. Right now, we just have the officers that are out on patrol having to identify somebody and stop them, and when most people see a (patrol) vehicle coming, they'll put down their phone below eye level so the officer can't see it. So hopefully, working in pairs, we may be able to identify those violators a little bit more."
Vaughn adds, it will still take several seconds of observation to tell if a driver is texting or just dialing a number on their phone, as there's no hands-free law currently in Iowa. To hear more from Vaughn, listen to today's Perry Fareway Let's Talk Dallas County program on air and at RaccoonValleyRadio.com.