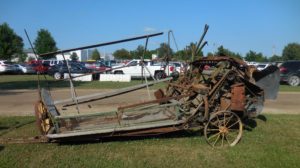 Along with all of the festivities at this year's Greene County Fair, the Greene County Historical Society will also be joining in the fun.
The historical society is once again hosting a series of "History Chats" on Friday and Saturday. Three programs will be held each day and they will relate to local history, which will be moderated by Chuck Offenburger and Jerry Roberts. The "History Chats" are intended to be more of a discussion with attendees giving their stories about the topic, rather than a presentation-based program. The programs that are scheduled for Friday are: a general history of the Greene County Fair at 11am, the history of Rippey at 1pm and a program on Paton native Jim Doran at 3pm. Saturday's programs include: a history of Churdan at 11am, a history of Scranton at 1pm and a history of Grand Junction at 3pm.
Another activity that the public is encouraged to partake in is a tour and program of the "Bristol No. 7" one-room country schoolhouse. Marilynn Hoskinson and Becki Cunningham will be portraying early teachers and giving explanations of what rural education was like in the county. They will be on hand from 9am to 6pm Friday and Saturday. The schoolhouse was originally built in 1874 and restored in 1967.
Plus, the historical society exhibits, featuring early farming equipment, will be open Friday and Saturday from 10am to 7pm.