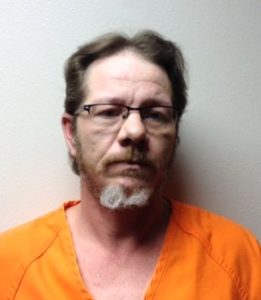 A sentence hearing for a man convicted of sexual abuse is scheduled for Monday in Greene County District Court.
Forty-seven-year-old James Hubert Exline was found guilty on June 6th by a jury in Bremer County on charges of a Class A Felony for second degree sexual abuse and a Class C Felony for third degree sexual abuse. Exline abused his 12-year-old daughter Paige Exline from June 2016 to April 2017. Paige was one of two victims that died in a house fire in Guthrie Center in May of 2017. Exline faces up to 75 years in prison. The sentence hearing is scheduled for 10:30am in the Greene County Courthouse.
It took three attempts to take Exline to trial. The first time was declared a mistrial by District Court Judge James Crew in October 2017 in Greene County, due to media exposure not allowing for an impartial jury to be selected. The second attempt was also declared a mistrial in Cerro Gordo County this past May when the jury was exposed to information about pending charges in a separate case in Guthrie County.
James's son Noah is charged with seven Class B Felonies for second degree sexual abuse. He is accused of sexually abusing his sister Paige seven times in a three year period from ages nine to 12. According to court documents, Noah's jury trial has been scheduled for October 30th, but a location has not been determined. James's stepson Patrick Thompson is charged with murder and arson for the house fire and is slated to have his trial in September with a location yet to be determined.
James Exline's sentence hearing is open to the public.