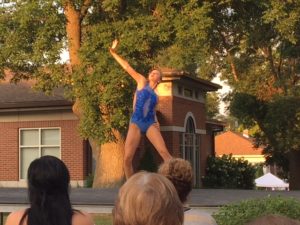 Panora's traditional summertime festival, Panorama Days, opened Friday evening with plenty of music, dancing, and movement.
In addition to live music throughout the evening, performances began with a series of young tumblers from Main Street Dance Studio. The more experienced performers later joined in on the fun with several tricks and flips in front of the roughly 100 people around the central square. The studio also showed off their dance camp routines with a Disney theme set.
The dancing served as an entr'acte to Panora's Bill Riley Talent Show qualifier, where eight of the thirteen acts across both divisions were solo dancers. Even though the show was filled with dancing, Ames pianist Ana Yam wowed the judges with her playing of Franz Liszt's "La Campanella" as she won the Senior Division. Though since she had previously qualified, the 2nd place Ankeny dancer McKenna Yordy took the qualifying spot. A team of baton twirlers from Des Moines and Indianola took 3rd.
It was a clean sweep at the piano as Lucy Gannon of West Des Moines claimed the top prize in the Sprout Division. Since Gannon and 2nd place dancer Brooklyn Miller of Gowrie had previously qualified, 3rd place dancer Emily Augspurger of Des Moines claimed the qualifying spot. Dylan Donovan and Adeline Godwin were also crowned the inaugural Mister and Miss Panorama Days.
The fun continues today with plenty of activities for the whole family. Raccoon Valley Radio's Big Red Radio will also be there broadcasting live, playing music, and making local announcements from 9am-2pm.