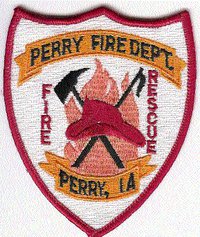 A quick thinking neighbor and a quick responding fire department prevent major disaster to a home in Perry Saturday morning.
The Perry Fire Department was called to a home fire at 1619 Willis Avenue just before 9:30am. Fire Chief Chris Hinds says a neighbor across the alleyway was leaving to check out some garage sales Saturday morning, when he noticed smoke coming from the squared-off rooftop of the rental home that's owned by Scott Stokley. The passerby called the police department to report the fire and banged on the door to alert the tenants. When there wasn't an immediate answer, the man entered the home and went upstairs to wake up the occupants and got everyone out safely.
Hinds says when they arrived on scene, they could see smoke continuing to filter out of the roof. Since the access space was too small for any of the firefighters to enter, Hinds points out they had to cut out the outside roof and climb down inside the attic. They found some insulation smoldering and when they went to uncover it, Hinds says that's when they found a small fire. Fire crews quickly put it out and no one was injured in the incident. Hinds adds that the cause of the fire was electrical and damage was minimal, with most of the repairs being electrical-related.
Hinds notes that had the neighbor not noticed the smoke earlier on, it could've been a lot worse of a situation in the end. Fire crews put tarps over the part of the roof they had opened so that it was watertight before they left the scene shortly before noon.
The Perry Police Department and Dallas County Emergency Medical Services assisted at the scene.