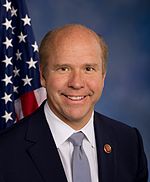 The first Democratic candidate for the 2020 Presidential election will be visiting Jefferson later this week.
Maryland Congressman John Delaney will be at the Milwaukee Depot this Thursday at 2:30pm for a roundtable discussion with area farmers about farming, rural towns and the agriculture economy. Joining Delaney will be Democratic candidate for US Congressional District 4 JD Scholten, Iowa Agriculture Secretary Democratic candidate Tim Gannon and Iowa House District 47 Democratic candidate David Weaver. Chuck Offenburger will be the moderator.
Delaney declared his candidacy for president a year ago and has since made a dozen trips to Iowa. He's an attorney and an entrepreneur who's built two publicly traded businesses from the ground up.
The Greene County Democratic Central Committee is hosting the event.