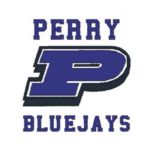 The sports of football and wrestling are certainly the two most physical sports offered at the Iowa High School level. It's not uncommon to hear football coaches saying they want as many wrestlers on their team as possible. College football coaches often praise the sport of wrestling and signal a wrestling a background as a positive in the recruitment process. Perry wrestling coach Mark Weber is not surprised that good wrestlers make good football players, but we asked him if he thought good football players equates to good wrestlers.
"That's a tough one," Weber smiled. "They certainly can, but I'm not saying all good wrestlers will be great football players either. I think the advantage a good wrestler has in transitioning to football is that they have the physical presence to make an immediate impact. Now obviously they still have to learn the mental component of the game but physically they are usually ready for the rigours of football. I think football players are going to be strong athletes and physically tough which bodes well into becoming a good wrestler. The key for a football player then becomes the ability to learn technique for wrestling and pay attention to the mental discipline and small details that separate a good wrestler from a great one."
Weber and Perry football coach Matt Hardy certainly want their athletes competing in both sports when in season and both feel multiple sport participation is a key at Perry considering where the numbers are right now.