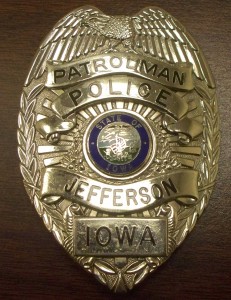 A Jefferson man is accused of sexually abusing a minor.
According to a press release from the Jefferson Police Department, officers arrested 25-year-old Jeremy Joe Orfield at a residence in the 1200 block of W Avenue just before 8pm Thursday on outstanding warrants. The warrants were from an investigation that began on July 28th of an alleged sexual abuse incident with a nine-year-old girl. Police Chief Mark Clouse tells Raccoon Valley Radio the victim went to Blank Children's Hospital for a forensic interview. Captain Heath Enns and an Iowa Division of Criminal Investigation Agent at Wild Rose Casino conducted a three-hour interview with Orfield, who admitted to parts of the incident.
Orfield is charged with a Class B Felony for second degree sexual abuse and a Class D Felony for lascivious acts with a child and/or solicitation. He was booked and remains in the Greene County Jail under a $25,000 cash only bond. According to online court documents, his preliminary hearing is scheduled for August 20th.
Raccoon Valley Radio will bring you more information as it becomes official.