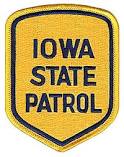 A Scranton man died Thursday evening after his motorcycle collided with another vehicle west of Jefferson.
The Iowa State Patrol reports, at around 7 p.m., a 2015 Harley Davidson motorcycle driven by 46-year-old Donald Daniel was travelling westbound on Greene County Road E53 near the intersection with County Road P14. A 2012 GMC Terrain SUV driven by 28-year-old Emily Perrien of Coon Rapids was travelling northbound on P14, and the two vehicles entered the intersection at the same time. The motorcycle collided with the SUV, and both vehicles came to rest in the roadway. Daniel was transported to the Greene County Medical Center by Greene County Emergency Medical Services, but died from his injuries.
The Iowa State Patrol is currently investigating the incident. They were assisted at the scene by the Greene County Sheriff's Office, Jefferson Police Department, Jefferson Fire Department, Iowa Department of Transportation Enforcement, and Greene County EMS. Raccoon Valley Radio will bring you more information as it becomes official.