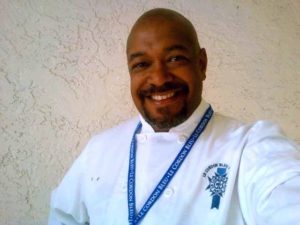 A new business is coming to the downtown square in Jefferson.
Jazzedy Personal Chefs and Catering is moving from Coon Rapids to the former Homestead Coffee and Bakery building in Jefferson. Owner and Executive Chef DC Bland brings over 30 years of culinary experience. He is a graduate of Le Cordon Bleu College in Scottsdale, Arizona where he also worked for several organizations and individuals including the Phoenix Coyotes of the NHL and US Olympian Dan O'Brien.
In the summer of 2017, he worked for The Port at Lake Panorama and this past year, he was the chef for the Iowa House and Senate during the legislative session. He took over the bistro in Coon Rapids earlier this year, but when the deal fell through, he started looking at other locations.
"At that time I had built some relationships with some people in Jefferson and they encouraged me to take a look at the Homestead Bakery and Cafe, which I did. I spoke to the owner this past weekend and we agreed on terms and that's what we're doing right now."
Bland named his business after his two daughters, Jasmine and Kennedy, and he is also a bassist for his jazz gospel band at his church.
Jazzedy serves new American cuisine with different and upscale flavor profiles. Bland's motto is to present "art on a plate." Bland adds, it will be a three-tiered company, which includes the bistro, catering services, and cooking classes. He explains why he wants to bring his business to Jefferson.
"The clients that I've had and the people that I've talked to, they want that sort of thing. And they're tired of going to Ankeny, and Waukee, and West Des Moines, Johnston and Omaha for that kind of food. Why can't I bring it out there and save them the drive and be the only place in the area that's doing that sort of thing. It's a win-win."
Owners Ora Stevens and Nahn Ngyien closed Homestead at the end of March of 2017, after Stevens bought Uptown Cafe. He said they were both busy at that time in their lives and it was a quality of life issue for them both. Bland notes that he's agreed to a one-year lease to purchase agreement with Stevens. One of the needed improvements is installing a commercial kitchen. The agreement begins October 1st, and Bland plans to have the bistro open as early as mid-December.
To find out more about Bland's company, click the link below.