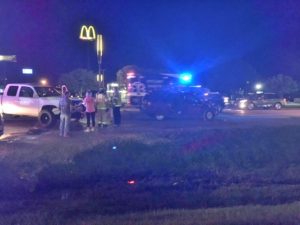 A two-vehicle wreck in Stuart Wednesday evening resulted in minor injuries.
The incident happened just before 9pm on South Division Street near Casey's General Store and McDonald's. According to Stuart Police Officer Katie Guisinger, a red Chrysler minivan was driving in the northbound lane and attempted to turn left into the Casey's parking lot when it collided with a white Chevrolet truck in the southbound lane. The driver of the minivan was cited for failure to yield and both drivers sustained minor injuries.
The intersection was partially blocked for a short time but crews were able to redirect traffic around the wreck. Names were not released pending completion of the official report. Damage estimates to the vehicles are unknown at this time though neither is likely a total loss. The Stuart Police Department, Stuart Fire Department, and Stuart Rescue all responded at the scene.
This is the second officially reported accident in that intersection since May, when a two vehicle accident resulted in both drivers being transported to Des Moines medical centers.